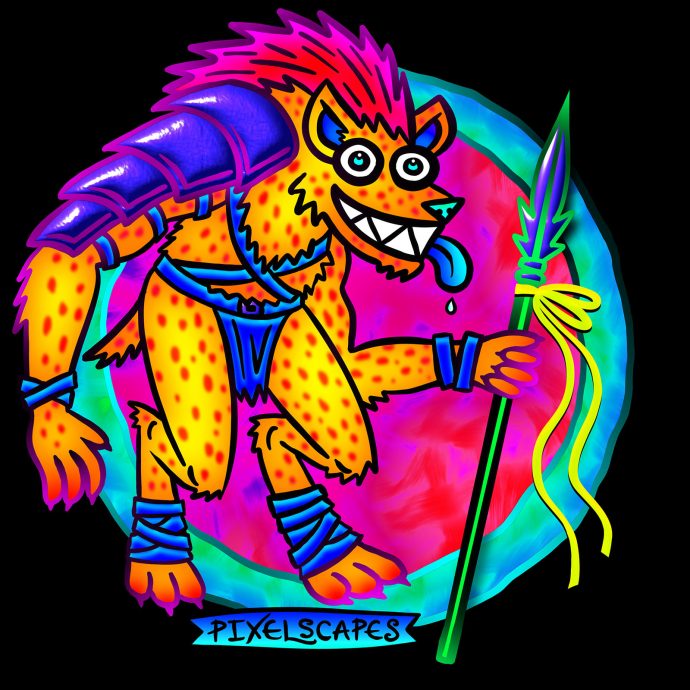 Well he certainly looks awfully happy for a demon-driven slathering hungermonster, doesn't he?
Here's the video of me painting the gnoll: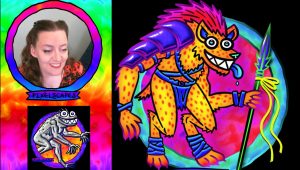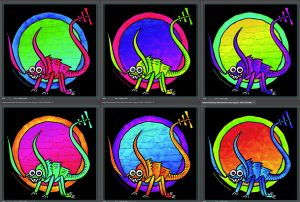 As you may know, I am a big fan of The RPG Academy podcast and their annual tabletop gaming convention, AcadeCon. I was a VIP at AcadeCon 2016 and as a result, they invited me to go to their Faculty Retreat this spring. I helped Caleb @TheCalebG playtest a game and had a load of fun with everyone there.
Lately I've been talking to Caleb about his card game idea using my monster art. I've been very excited about it, and now he's summarized in the podcast so I can share these details!
At the 4:36 minute mark of the Faculty Meeting #111 episode, Caleb and Michael (@TheRPGAcademy) made the announcement as follows:
Caleb: I will drop an exclusive hint and a teaser. If you come to AcadeCon 2017, you will be able to play a brand new game that is being worked on by myself and friend of the show, Jen.

Michael: Also a VIP! Big, big supporter and sponsor of our show.

Caleb: … She and I started throwing ideas around online the other day. This is going to evolve into a card game with some pretty cool art.

Michael: Ah yes. If you check out Jen's Twitter, you will probably see some of that art in progress.

Caleb: So at AcadeCon 2017, you will be able to participate in a fun little card game. It's not going to be your typical sit down and build a deck kind of thing. It'll be a quick hit, oh hey let's play, bam, bam, done. So, maybe more news as that evolves — or maybe we'll just drop it on you in November. But hey, if you want something cool that the community is actively participating and creating, that'll happen in November.
Neat, huh? The image above has some color variant rust monsters I showed him when we were talking. Can't wait to show you more!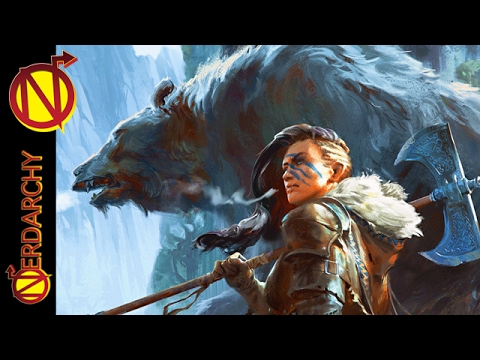 I have joined Nerdarchy.com's D&D game featuring an all female party, the Scarlet Sisterhood. Thanks for the invite, Nerdarchy; as a ForeverDM(tm), it's nice to be a player. The group is fun, too.
The Scarlet Sisterhood games stream live on Nerdarchy's YouTube channel every Wednesday Tuesday at 7 pm Eastern time.
You can watch the Scarlet Sisterhood video archive. I started playing in Episode 13.
Nerdarchy.com also offers daily chats, a forum, and other goodies for tabletop RPG players, so definitely check them out.