When more monsters are done, I will offer digital token packs for use on Roll20 and on other virtual tabletops.
Meanwhile, people have requested t-shirts and more. Therefore, I've posted this aboleth design on Redbubble to get started. Shirts, wall art, clocks, stickers… lots of options: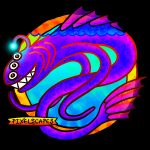 More coming soon! Let me know if there's a particular monster you want.
I'm also planning the following:
By custom request, I've already done some custom printing such as a Magic play mat. I'll work out a way to offer such things more consistently next.
I plan to offer custom commissions such as character portraits.
… and the digital token packs I mentioned above.
Keep an eye on my Blog for news as the above options progress.
Which monster do you want to see offered next? Contact me.