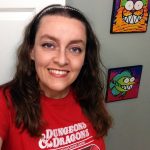 Email: jen@pixelscapes.com
If you'd like to talk about a custom commission or have some question too long for Twitter, email me.
Twitter: @pixelscapes
I do most of my RPG-related chatting here, plus I post art daily. Art retweeters get a daily chance to pick an upcoming monster for me to paint! Twitter has a vibrant RPG community and topics extend well past Dungeons & Dragons.
Twitch: Pixelscapes Streams Painting
On most Saturday and Sunday nights at 8:30 pm Eastern time, I stream painting live here. If you can't watch live, see the Twitch Archive or the equivalent Archive on YouTube.
DeviantArt: Pixelscapes (Jen Gagne)
I'm crossposting art to DeviantArt. I've had some nice feedback here! Just got started, so expect more soon.
Pinterest: Pixelscapes Monsters
I also crosspost my art to Pinterest.
Facebook: Jen Gagne's Pixelscapes
I crosspost my art from here to there daily.
Thanks for visiting,
Jen