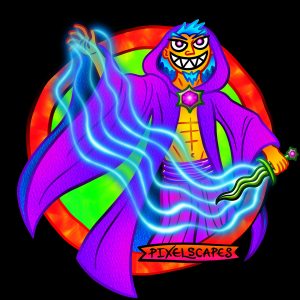 Custom art commissions are open as of January 22, 2018! Email me at pixeljen@gmail.com.
What I offer: Custom character, monster, or pet portraits in my style. See examples in my gallery or below.
Price: Full color art starts at $50 U.S. per character depending on complexity and reusability.
The process:
Email me at pixeljen@gmail.com so we can discuss your project and any key details.
Once we agree and I accept the commission, you pay half up front through PayPal.
For the first stage, I show you a basic blueline sketch to ensure we're both on the same page regarding pose and accessories. You may request one free round of minor revisions at this stage.
Once you approve the sketch, I finish the line art and complete the commission in color. I show you a watermarked version. You may request one round of color changes.
You pay the other half of the fee via PayPal.
Upon final payment, I send you flat high-resolution digital images in color with black and white background options and no watermarks. I also include a lower resolution PNG token file for use on virtual tabletops such as Roll20.
Terms of use: These images are for your personal use only and cannot be used for commercial gain. You may not redistribute or sell digital or printed versions. (If you want that, include that in our initial discussion.) Since I retain copyright, I reserve the right to use commissions in print works and token packs, to advertise commissions on social media, on my website, and elsewhere.
Interested? Email me at pixeljen@gmail.com and let's discuss your idea.
Examples for Commissions
Characters and Portraits
… and of course all manner of monsters, as you can see in my gallery.
Pet Portraits
I can be relatively realistic as shown in the first image or go as cartoony as you'd prefer.
Magic Items