About the Art
I'm digitally drawing and painting RPG monsters! Right now I'm working my way through the D&D 5e Monster Manual.
For the drawing, I use Procreate app on an iPad Pro with the pressure-sensitive Apple Pencil. To add color, I use Adobe Photoshop CC on my PC. I find that's the best way to get hypersaturated colors and gradients.
Want to see my process in action? Check out my Videos.
About the Artist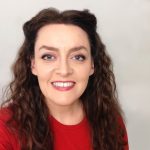 Hello, I'm Jen Gagne. I have been an artist my entire life, drawing and sculpting. Since first encountering Dungeons and Dragons in kindergarten, I have also been an avid tabletop gamer.
I graduated from University of Maryland College Park with a B.A. in Fine Art and also a B.S. in Biology. There I focused on printmaking with a segue into digital media, my ultimate artistic love.
Together with my brother and friend, I plied those digital art skills to develop the 7Seas Fishing game, popular in the virtual world of Second Life. I also created wearable angel and fairy wings (again, in virtual reality). Those creations typically featured the same bright colors you see in my art today.
At this point, I am delighted to be obsessed with tabletop gaming — particularly D&D. I DM games most Fridays and also play weekly.
Given that backdrop and my love of bright colors, it has seemed a natural and fun fit to create the illustrations you now see in my Portfolio.
You can learn more about me in this hour-long Nerdarchy Live Chat #52
Questions? I'm always happy to talk! Contact me.